VICTORIA GARDENS
12505 North Mainstreet, Suite 200
Rancho Cucamonga, CA 91739
(909) 463-2830
Permanent Leasing
Specialty Leasing
Partnership Marketing
As a top destination in the Inland Empire, Victoria Gardens is host to more than 16 million shopper visits annually. Hailed as the gold standard of outdoor shopping center design, Victoria Gardens is a 1.2 million-square-foot, open-air town center at the heart of a 160-acre, "main street" community. The center consists of retail, office, public plazas and a civic Cultural Arts Center with a state-of-the art library and playhouse. The retail mix includes 170 specialty stores and the largest selection of sit-down restaurants in one place in the Inland Empire.
Victoria Gardens is located at the junction of Interstate 15 and Foothill Boulevard. Victoria Gardens is located 37 miles east of downtown Los Angeles in what is known as the Inland Empire – the San Bernardino County and Riverside County portion of Southern California.
Opened: 2004
Size: 1.2 million square feet
Anchors: Macy's
Macy's Men's, Children's & Home
JCPenney
Victoria Gardens Cultural Center
Bass Pro Shops Outdoor World
Contact Information
Permanent Leasing
Victoria Gardens offers long term leasing options for restaurants, shops and entertainment uses. If you are interested in leasing long term space for a restaurant, shop or other use, please contact our leasing agent at Forest City Enterprises:
Susan Young (213) 416-2268
SusanYoung@ForestCity.net
Specialty Leasing
If you have a product or idea and would like to test it on a short term basis, Victoria Gardens could be a great place to start your new enterprise. Victoria Gardens can help you get your new business venture started through our Specialty Leasing Program. Contact our Specialty Leasing Manager for more details:
Suzanne Laffin
(909) 463-2828
SuzanneLaffin@ForestCity.net
List of Opportunities: There is an array of Specialty Leasing opportunities available within the shopping center. Here are some examples: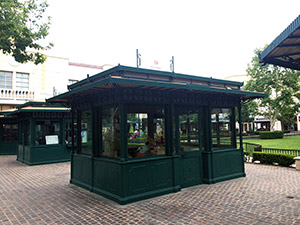 Kiosk - the simple definition of a kiosk is a retail unit of approximately 100-200 square feet. The distinct difference between this unit and an RMU (cart) is that you operate your business from inside of it. It is most often a stationary space located in the common area. This can be leased short term or permanent.

Retail Merchandising Units or Retail Merchandising Unit most commonly referred to as a cart. It is approximately 50 square feet of retail space. You operate your business around it. It is typically mobile and in the common area. RMUs by nature are leased for a minimum of 3 months up to 1 year maximum. This gives you an opportunity to test your product without much overhead expense.

Inline space - also known as store space. The square footage of this pre-existing space can range in size depending on availability. Since inline space is something that the owner of a shopping center wants to have leased on a permanent basis, the availability can vary. Your agreement term is typically 1 year. OR, it can be something that is leased for seasonal use. This opportunity allows you the ability to gauge your potential among other national retailers without a large financial or time commitment.
Other Specialty Retail Opportunities: Opportunities exist to promote your business by way of billboard, digital advertising and/or sponsorship. Contact the Specialty Leasing manager for more details.
Specialty Leasing FAQ
Q: Are there visual requirements?
Answer:
Businesses are required to meet each shopping center's visual standards. The Specialty Leasing Manager will provide you with the contact information for Victoria Gardens' preferred professional visual merchandiser
Q: Are fixtures provided?
Answer:
In most circumstances, the fixtures or props are provided by each merchant at his or her expense. These items are most often purchased through the visual merchandiser. The Specialty Leasing Manager may also be helpful in offering other fixture resources.
Q: Do I have to be open during mall hours?
Answer:
Yes. This applies to most specialty retail businesses.
Q: Is it required to make an appointment with a Specialty Leasing Manager?
Answer:
It is in your best interest to meet with the Specialty Leasing Manager in person to discuss all details involved with opening your business in the shopping center.
Specialty Leasing Application
Click here to download Special Leasing Application
To learn more about the specialty retail industry, here is a link to the premier industry magazine.
http://www.icsc.org/publications/item/specialty-retail-report
Partnership Marketing
Our centers are the ideal place to introduce your brand to its target audience. Be visible and establish relationships with engaged shoppers through a variety of in-mall advertising options, event venues and sponsorship opportunities.
Melina Ferraez
Director of Marketing
MelinaFerraez@ForestCity.net
click here to submit a partnership marketing inquiry
360° Brand Engagement Engage thousands of shoppers each day by creating an immersive experience that will showcase your products. We specialize in:
Brand Activation
Product Sampling & Trials
Special Event & Experiential Marketing
Interactive Product Engagement
Mall Marketing Events
Product Displays
High-Performance Media
Our attention-getting media opportunities will highlight your brand message and optimize its impact on shoppers.
Large Wall Graphics
Exterior Spectaculars
Standees
Amenity Sponsorship
Reach your target audience in the right place at the right time.
Play Area Environments
Soft Seating Experiences
Valet Stations
Holiday Sets
Customized Activations
Do you have a partnership opportunity you'd like to share? Call us so we can design the perfect one for you!