If there's one night of the year when you can go all out, it's definitely on New Year's Eve. It's a giant party that the whole world is attending, so don't hold back on the glitz and glamour! Too much pressure to pick an outfit? Read on for our radiant recommendations.
Elegant Jumpsuits
From silk to velvet to flouncy fabrics, jumpsuits are on trend this season, so look for one with a plunging neckline, exposed back and flared leg to do the night justice. Choose a festive color or classic black, and try adding a sparkly belt and equally sparkly heels to break up the length of fabric. And if you opted for a long-sleeved suit, layer a wide gold cuff on one wrist. A choker necklace will add some elegant edge.
Unique Dresses
Your LBD has served you well, but it should sit New Year's Eve out. Such a celebration calls for a dress that can turn heads in a room full of LBDs, not to mention one that no one else will be wearing. A patterned or color-blocked knit dress is perfect for celebrating in cold-weather climes, while a tasseled tank dress allows for dancing all night. Even more original is a matching crop top and skirt combo, allowing you to show as much or as little skin as you so desire.
Sparkly Sequins 
Rocking sequins on New Year's Eve is about as original as wearing florals in the spring, but hear us out. While every girl on the planet is donning a glittery cocktail dress, think outside the box and slip into a gold or silver-sequined pencil skirt with a high slit or a pair of cropped trousers. Then offset all that shimmer with a neutral-hued top, like a black turtleneck or cream cable-knit sweater.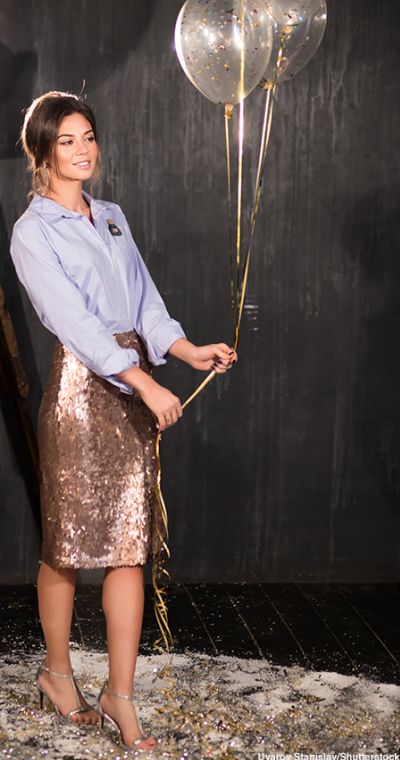 Remember to pile on those shiny accessories – on New Year's, there's no such thing as too much sparkle! What better way to kick off 2017 than to be the best dressed on the last night of 2016?